Room Description
Forest Cottage Yoga Package
| REGISTER HERE |
$185 per night based on single occupancy. Add $75 per additional person per night. Minimum 2-night stay.
* A $35 flat cleaning fee will be added to your total price upon booking.
* A flat $50 additional fee per night will be charged on weekends (Friday – Sunday)
At Nectar Yoga BnB, we provide a 2-night grounding yoga experience for all fitness levels (in our really cool geodesic dome), introspective meditation sessions, thoughtfully designed cottages, nourishing breakfasts delivered to your door, a connection back to nature, eco-friendly products, a space to dream, and a womb to deeply relax. When you arrive on Bowen Island, we want you to feel completely disconnected from the city hustle, from your lists, from the daily life tensions. We want you to take a deep breath and chill.
We created our Yoga BnB Package for those who need to press the reset button from their busy lives. Think of this as yoga-retreat-lite. Equal emphasis is put into our classes, our meals, our cottages and our vibe. We want you to have time during the day to explore, relax, read, enjoy one of the many restaurants, write, be creative, to do whatever lights your fire! So, we specifically created this retreat-like experience for those of you who want to do yoga, but also want to be alone or connect with a friend. We welcome many singles, mom's and kids, couples, friends. And we love you all. 
INCLUDES:
Private Cottage 
Daily Morning Fresh Vegetarian Breakfasts (See The Breakfast Menu below)
Evening Arrival Yoga Lesson (See The Daily Schedule below)
Evening Arrival Guided Relaxation (See The Daily Schedule below)
Daily Morning Meditation Lessons (See The Daily Schedule below)
Daily Morning Yoga Lessons (See The Daily Schedule below)
All yoga mats and equipment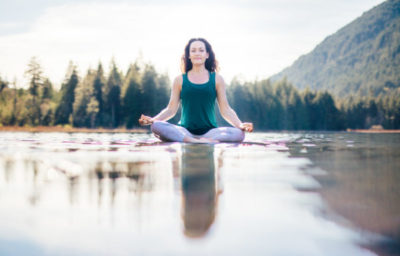 YOGA SCHEDULE (These times are set and cannot be changed)
DAY 1
3:00pm Arrive at Nectar Yoga BnB
4:30 – 5:30pm Evening Yoga Lesson
5:30 – 5:45pm Evening Guided Relaxation
DAY 2
8:00 – 8:30am Morning Guided Meditation
8:30 – 9:30am Morning Yoga Lesson
9:30 – 10:00am Breakfast Delivered to Your Door
10:00 – 4:00pm Explore Bowen Island
OPTIONAL – Additional evening class add $40 for 1-2 people, $60 for 3-4 people:
4:30 – 5:30pm Evening Yoga Lesson
5:30 – 5:45pm Evening Guided Relaxation
DAY 3
8:00 – 8:30am Morning Guided Meditation
8:30 – 9:30am Morning Yoga Lesson
9:45 – 10:45am Nectar Yoga Breakfast Delivered to Your Door
11:00am Check Out
* This is a sample schedule and will be adjusted based on your length of stay
SAMPLE BREAKFAST
Fresh fruit (Local and Organic when possible)
Organic yogurt (Vegan Chia Pudding available upon request)
Organic granola
Fresh toasted bread, croissant, or toasted gluten free bagel with home-made jam and butter
A selection of herbal and caffeinated teas
Local coffee
Organic almond milk or organic cream
* This is a sample menu and can be adjusted to accommodate dietary preferences. Each morning will be a new offering.
Interested in a Liquid Detox Weekend? Join one of our special weekend retreats: CLICK HERE
Please email us if you would like to stay in the cottage without yoga. If you have a partner or friend who does not want to do yoga, they can stay without the yoga package.
| REGISTER HERE |
The Forest Cottage
Situated on a 1.2 acre lot, The Forest Cottage was built off-site and delivered by boat. We chose a prefabricated building to reduce construction waste, fossil fuels, and have less impact on the forested area which it sits.
The cottage is furnished in a west coast beach style and features a modern wood slatted ceiling. The foyer is welcoming with lots of space for your belongings. The adjoining washroom has a toilet and sink vanity. A special feature of this cottage is it's outdoor shower with all natural eco friendly bath products. Imagine putting on your fluffy towel, walking out to your private deck, and hopping in the steamy open air shower overlooking 100 foot tall trees.
The Forest Cottage sleeps 2 guests in a king size bed which can be separated for 2 singles. The interior features a forest view seating area for eating your freshly delivered breakfast, 2 comfy chairs for reading & relaxing, a mini fridge for cold drinks, assorted herbal teas, a TV and DVD player to watch movies, complimentary WiFi, assorted books and games, and many other special details. Two glass doors open to the outside forest view private deck, where you can enjoy your morning coffee.
There are no kitchen facilities in this cottage.
* Please note that the only showering facility is outside. The shower can be used most of the year and is a great way to connect to the fresh Bowen Island air & the forest views. If we have below freezing temperatures, there will be an alternate shower for you to use in our main house.
We pride ourselves in keeping the environment clean and use only natural cleaning products, soaps, and shampoos.
Yoga Dome
Our Yoga Dome Space!
| REGISTER HERE |
---