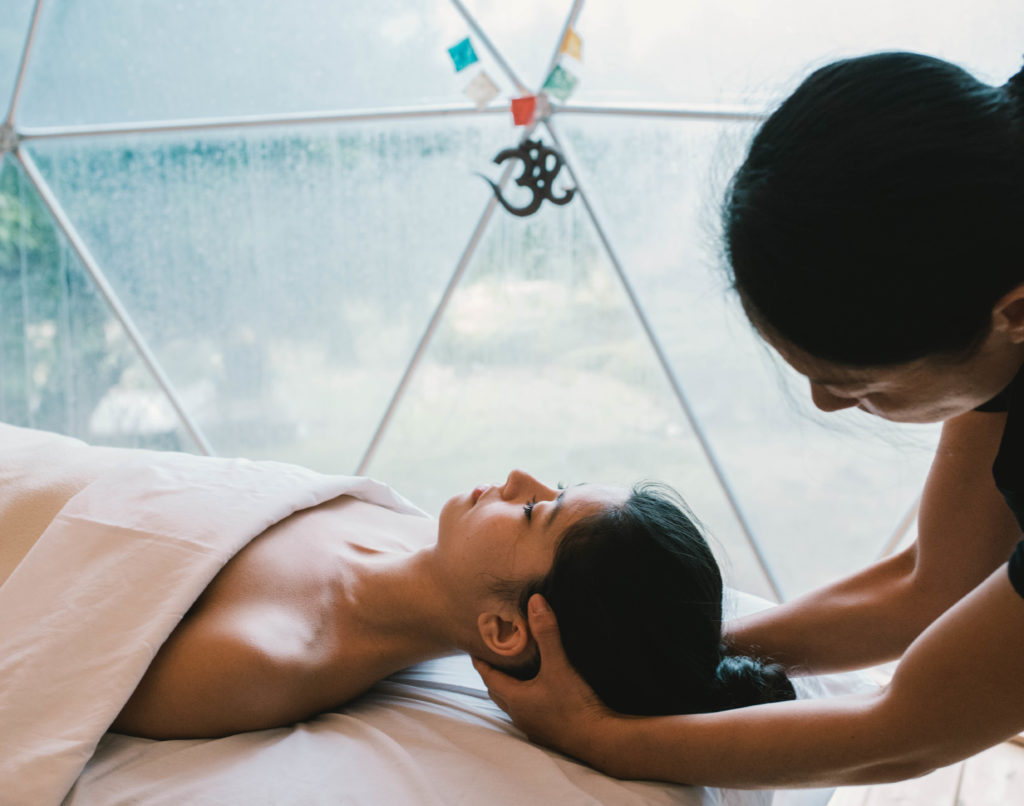 Thai Yoga Massage Couples Course
WHEN:
June 28th 3hr Workshop
1:30pm – 4:30pm
Join us on Sunday June 28th 2020 and connect with your loved one mentally, spiritually and physically through the art of Thai YogaMassage. A unique form of bodywork that requires no special equipment, it is a wonderful stress reduction skill to bring home. Working on the floor on a mat (with bolsters, blankets, etc. for added comfort), you will work along the Sen (energy) lines of the body to apply pressure with your hands, thumbs, elbows and feet to gently stretch and massage your partner.
What you will take away
Improved communication and connection, both energetic and physical
Thai Yoga Massage techniques that can be used on their own or in a flowing sequence
How to leverage your body weight with minimal effort to stretch and massage your partner
Breathing techniques to enhance the massage sequence flow and energetic connection
*No prior massage experience needed.
COST:
$225 + gst per couple
Thai Yoga Massage Overview:
Thai Yoga Massage is performed on a mat, on the floor, with the client dressed in loose, comfortable clothes (or yoga type clothes). Also known as "lazy man's yoga" this massage incorporates Hatha Yoga postures combined with acupressure to gently stretch the muscles and joints. No oil or lotion is used, allowing the practitioner to use gentle rocking movements, deep stretching and compression to assist in the restructuring of muscular-skeletal framework.
What's included:
Safe effective instruction on Thai Yoga Massage to perform with your loved one.
The agenda:
The workshop will begin with some information about Thai YogaMassage and its unique benefits, including pain relief, stress reduction and increased flexibility. In the next 2.5 hours you and your partner will learn 5-10 Thai Yoga Massage self care techniques to safely practice at home. You will also be given an instruction guide by email to refer back to.
During the workshop you will be in various kneeling and lunging positions, so general good health and flexibility is a must. When it is your partner's turn to learn you get to lay back and enjoy the benefits of Thai Yoga Massage!
What to bring:
Wear comfortable stretchy clothing that you can move freely in. If you get chilly when not moving bring layers to remain comfortable.
Bring a light healthy snack for energy and reusable water bottle.
This workshop is for you if:
You are a couple, family members or friends looking for a way to reconnect, strengthen or nurture their relationship. It is particularly helpful if:
You are feeling stressed which prevents you from making a meaningful connection
Life is so busy you don't know how to make time for each other
You experience any body discomfort or pain which prevents you from enjoying your time together
This workshop is not for you if:
You are uncomfortable with physical touch in a group environment
You are physically unable to kneel, squat, lunge
You are pregnant and are considered high risk
Rates & registration:
$225 + gst per couple. $200 early bird registration before April 30th
To register, click HERE:https://seaglassandbodyworks.square.site/bowen-island-experiences
**This is not a certificate course allowing you to open a practice